Internet of Things Eight-week Course: Connecting Things
February 12 @ 5:30 pm

-

April 23 @ 8:30 pm

EST
This course meets at 20Fathoms in downtown Traverse City for eight two-hour Tuesday sessions to provide participants with an in-depth experience with Internet of Things. You'll work with a Raspberry Pi-based IoT Greenhouse system to create control systems and leverage cloud resources. By the completion of the course, you'll be able to create a basic IoT system integrating the Raspberry Pi controller, cloud services, and your mobile device. Participants must have prior coding experience. IoT hardware is provided, but a laptop is required.
Requirements: Experience with coding required. Introductory IoT Session not required but recommended. Laptop required.
Session Outcomes



Explain the concepts, opportunities and challenges of digital transformation using IoT




Interact with Raspberry Pi, sensors, and actuators




Use remote tools to develop and test Python solutions




Use Python to control and connect IoT devices




Design and prototype IoT solutions using electronics, microcontrollers, and software




Secure an IoT system



Optional Certificate: Participants can elect to continue their learning by completing the linked Connecting Things course provide by Cisco Networking Academy®. A certificate of completion is available for those who pass the final course assessment.
About Keith E. Kelly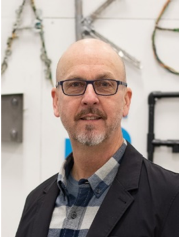 Keith has been making things his entire life. In his earlier years, he created solutions using electronics and software. As his teaching career matured, Keith used the same problem-solving abilities to improve educational systems and curriculum.
In response to the emerging trends in Internet of Things, Keith has created IoT, Python, and Electronic Devices training leveraging an IoT Greenhouse model. He delivers these as experiential workshops along with Cisco's Python and IoT curriculum. His favorite thing to make is new IoT coders and techs!
Class Schedule

All sessions will take place on Tuesday evenings from 5:30–7:30 PM.


February 12


February 19


February 26



March 12


March 19



April 9


April 16


April 23